Boost your Business' Programme with Facebook (2017-18)
Handholding new as well as existing entrepreneurs for utilizing Facebook's business page for promoting their enterprises,
EDII collaborated with Facebook to implement its National Project – 'Boost Your Business' in India in 2017-18 which paved way for EDII to impart the necessary skills for an Entrepreneur to thrive in today's digital world. With more than 20000 beneficiaries across 15 states, the programme focused on training entrepreneurs running small and medium businesses, from both urban and rural sectors, with the requisite knowledge, skills, and technical expertise to promote the growth of their businesses online, thereby facilitating economic growth and digital inclusion for all. The Boost Your Business program comprised of both half-day and 2-hour pop-up events,  each focused on bringing small businesses together to share best practices and hear about the latest marketing strategies and tools used in facebook family of apps. The program focused on tools that allow small businesses to reach to new as well as current customers more effectively through FB pages both organically as well as through advertisements.
The impact of BYB training programs can be summarized into five impact areas:
• Economic Impact
• Women Empowerment
• Digital and Social Inclusion
• Self-employment and Job Creation
• Boosting Entrepreneurial Activities in Rural Areas
Facebook COO Sheryl Sandberg, acknowledges partnership with EDII, for the Boost Your Business Project


Karnataka, Gujarat, Andhra Pradesh, Telangana, Kerala, Tamil Nadu, Goa, Puducherry, Maharashtra, Orissa, Uttar Pradesh, Madhya Pradesh, West Bengal, Tripura and Manipur
Trained 20,200 small business Entrepreneurs through 200 BYB programmes conducted Pan India
BYB programs created economic as well as social impact for the participants and their businesses.
Boost in sales, referrals, and increased savings in advertising and marketing costs for the entrepreneurs and other business owners post training
Increase in use of Mobile phones and data for the rural Entrepreneurs and small units.
Awareness about the use of Digital Media, the power of Social Media Marketing and other family of Apps to promote an Enterprise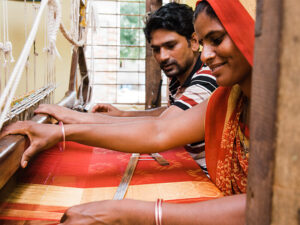 The project which commenced in 2019 would be implemented over 3 years. 'Handmade in India' is a 3-year project focused at evolving an entrepreneurial ecosystem around 6 selected handloom clusters spread across five states – Assam, Gujarat, Madhya Pradesh, Odisha & Tamil Nadu (Kamrup, Surendranagar, Bhuj, Maheshwar, Bargarh, Salem handloom clusters in India). EDII is anchoring the project in consultation with Ernst & Young (Knowledge partner), and with support from HSBC.
Read More »