Entrepreneurship Development Institute of India (EDII), an autonomous and not-for-profit organisation, set up in 1983, is promoted by apex financial institutions, the IDBI Bank Ltd., ICICI Bank Ltd., IFCI Ltd. and the State Bank of India (SBI), with support from the Government of Gujarat. The Institute is registered under the Societies Registration Act – 1860 and Public Trust Act – 1950.

EDII's pioneering activities in entrepreneurship development training have established that people from all walks of life can become business owners. It has demolished the myth that entrepreneurs are born, and cannot be made.

To pursue its mission further, EDII has helped set up twelve state-level exclusive entrepreneurship development centers and institutes. EDII's core competence lies in providing innovative training techniques, competent faculty support, teaching and training materials.


EDII is working with a large number of Ministries in the Central Government, viz. Ministries of MSMEs, External Affairs, Skill & Entrepreneurship Development, Women and Child Development, Human Resource Development, Rural Development, Science & Technology, Textiles, Food Processing, Panchayati Raj, Social Justice & Empowerment and Office of the Development Commissioner – Handicrafts.  Institute also works with various state governments and corporate houses.


In the international arena, the entrepreneurship development efforts by way of sharing resources and offering training programmes, have helped EDII earn distinctions and support from The World Bank, Commonwealth Secretariat, UNIDO, ILO, FNSt, British Council, Ford Foundation and several other renowned agencies.


The Institute has successfully carried out the prestigious task assigned by the Ministry of External Affairs, Govt. of India, of setting up Entrepreneurship Development Centres in Cambodia, Lao PDR, Myanmar, Vietnam, Uzbekistan and Rwanda. The Institute is presently working on establishing similar Centres in four other African countries.
Industrial Development Bank of India
(IDBI Bank Limited or IDBI Bank or IDBI) was established in 1964 by an act to provide credit and other financial facilities for the development of the fledgling Indian industry. It is a development finance institution and a subsidiary of Life Insurance Corporation. Many national institutes find their roots in IDBI like SIDBI, India Exim Bank, National Stock Exchange of India and National Securities Depository Limited.
IFCI, previously Industrial Finance Corporation of India, is a development finance institution under the jurisdiction of Ministry of Finance , Government of India . Established in 1948 as a statutory corporation, IFCI is currently a company listed on BSE and NSE. IFCI has seven subsidiaries and one associate.
It provides financial support for the diversified growth of Industries across the spectrum. The financing activities cover various kinds of projects such as airports, roads, telecom, power, real estate, manufacturing, services sector and such other allied industries. 
State Bank of India (SBI) is an Indian multinational, public sector banking and financial services statutory body headquartered in Mumbai, Maharashtra. SBI is the 43rd largest bank in the world and ranked 221st in the Fortune Global 500 list of the world's biggest corporations of 2020, being the only Indian bank on the list. It is a public sector bank and the largest bank in India with a 23% market share by assets and a 25% share of the total loan and deposits market.
ICICI Bank Limited is a privately owned Indian development finance institution with its registered office in Vadodara, Gujarat, and corporate office in Mumbai, Maharashtra. It offers a wide range of banking products and financial services for corporate and retail customers through a variety of delivery channels and specialised subsidiaries in the areas of investment banking, life, non-life insurance, venture capital and asset management. The bank has a network of 5,275 branches and 15,589 ATMs across India and has a presence in 17 countries.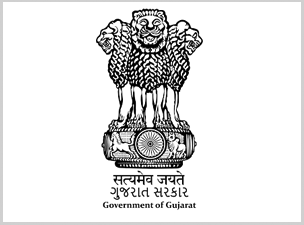 The
Government of Gujarat
, also known as the State Government of Gujarat, or locally as State Government, is the supreme governing authority of the Indian state of Gujarat and its 33 districts. It consists of an executive of the legislators appointed by the Governor of Gujarat, a judiciary and of a publicly elected legislative body.