A National Resource Institute in Entrepreneurship Education, Research, Training & Institution Building. Promoted by IDBI Bank Ltd; IFCI Ltd, ICICI Ltd, SBI and Govt. of Gujarat.
Pioneered the Entrepreneurship Development Programme (EDP) Model.
Ranked as Number 1 by Atal Ranking of Institutions on Innovation Achievements (ARIIA) – 2021 in General (Non-Technical) Category. The only institute from Gujarat to be ranked as Number 1 across all seven categories.
Recognized as Centre of Excellence by the Ministry of Skill Development & Entrepreneurship, Govt. of India.
Pioneer of Post Graduate and Doctoral Programmes in entrepreneurship in the country.
Leading the world's largest study in Entrepreneurship, 'Global Entrepreneurship Monitor' for its India chapter, since 2012.
Works in the collaborative frame with State & National Government Departments & Ministries, such as DST, Rural Development, Skill Development & Entrepreneurship, Textiles, Education, External affairs.
Works/Worked with noted Corporates like Bayer Foundation, Tata Communications, Walmart, HP, Accenture, HCL, Facebook, HSBC, on CSR Projects.
Alleviated urban and rural poverty and promoted sustainable livelihood options across various sections of people through skill development, training and capacity building.
Has worked towards inclusive development by ensuring a higher incidence of New Enterprise Creation among SC/ST and other disadvantaged sections of people.
Working in cluster development, training, capacity building and research.
Has set up Entrepreneurship Development Centres in Cambodia, Laos, Myanmar, Vietnam, Uzbekistan & Rwanda.
Anchors the largest ever Village Entrepreneurship Programme in the country.
Trains between 80,000 to 1,00,000 potential entrepreneurs, annually, PAN India.
Industrial Development Bank of India
(IDBI Bank Limited or IDBI Bank or IDBI) was established in 1964 by an act to provide credit and other financial facilities for the development of the fledgling Indian industry. It is a development finance institution and a subsidiary of Life Insurance Corporation. Many national institutes find their roots in IDBI like SIDBI, India Exim Bank, National Stock Exchange of India and National Securities Depository Limited.
IFCI, previously Industrial Finance Corporation of India, is a development finance institution under the jurisdiction of Ministry of Finance , Government of India . Established in 1948 as a statutory corporation, IFCI is currently a company listed on BSE and NSE. IFCI has seven subsidiaries and one associate.
It provides financial support for the diversified growth of Industries across the spectrum. The financing activities cover various kinds of projects such as airports, roads, telecom, power, real estate, manufacturing, services sector and such other allied industries. 
State Bank of India (SBI) is an Indian multinational, public sector banking and financial services statutory body headquartered in Mumbai, Maharashtra. SBI is the 43rd largest bank in the world and ranked 221st in the Fortune Global 500 list of the world's biggest corporations of 2020, being the only Indian bank on the list. It is a public sector bank and the largest bank in India with a 23% market share by assets and a 25% share of the total loan and deposits market.
ICICI Bank Limited is a privately owned Indian development finance institution with its registered office in Vadodara, Gujarat, and corporate office in Mumbai, Maharashtra. It offers a wide range of banking products and financial services for corporate and retail customers through a variety of delivery channels and specialised subsidiaries in the areas of investment banking, life, non-life insurance, venture capital and asset management. The bank has a network of 5,275 branches and 15,589 ATMs across India and has a presence in 17 countries.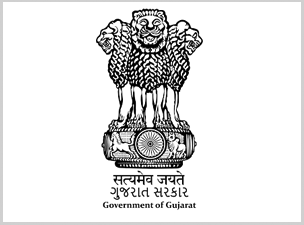 The
Government of Gujarat
, also known as the State Government of Gujarat, or locally as State Government, is the supreme governing authority of the Indian state of Gujarat and its 33 districts. It consists of an executive of the legislators appointed by the Governor of Gujarat, a judiciary and of a publicly elected legislative body.