Policy Advocacy, Knowledge and Research​
Facilitating for Research in Entrepreneurship, Public Policy & Advocacy

EDII has always sought to play a significant role in the development and implementation of public policy to ensure a healthy and conducive environment for entrepreneurship development. The initiative of the institute serves a conduit between policymakers and potential/existing entrepreneurs. Acting as a pivot for policy advocacy, fount of knowledge and repository of empirical research, EDII positively impacts MSME entrepreneurship development process. The Institute ensures that the applied policies of various Governments keep pace with the changing MSME entrepreneurship scenario, so that an effective development agenda is worked out. EDII houses a strong research and knowledge infrastructure. The Department of Policy Advocacy, Knowledge and Research (DPA) works with the objective to strengthen applied-research on the subject, to influence policy makers and other stakeholders to make policies relevant to the context.
The Department of Policy Advocacy, Knowledge and Research (DPA) works with the objective to strengthen applied research on entrepreneurship, to influence policy makers and other stakeholders to envision and draft policies relevant to the ecosystem. The specific objectives include:
Providing conceptual underpinnings to national and international policies.
Assisting policy makers in their efforts of promoting entrepreneurship opportunities through demand-driven pertinent policies.
Sensitising and impressing upon government bodies and private organisations to integrate entrepreneurship in their development policies.
Creating a strong research and knowledge infrastructure.
The Journal of Entrepreneurship (since 1992).
Biennial Conference in Entrepreneurship Research (since 1994).
Centre for Research in Entrepreneurship Education and Development (since 1997).
The Global Entrepreneurship Monitor (GEM) (since 2011).
Visiting Fellowship and Research Sponsorship to outside researchers.
Fellowships to Research Scholars.
EDII's Contribution in National Policy Formulations & Knowledge Creation
Hosts Centre for Policy Research in Science and Technology Entrepreneurship sponsored by Department of Science and Technology, Govt. of India.
Developed and submitted National Entrepreneurship Policy to Govt. of India.
Contributed in AICTE Start-up Policy 2016.
Contributed in Report on One- Man Committee on National MSME Policy for Micro, Small and Medium Enterprises.
Prepared Startup Vision Document, MSME Dossier for Govt. of Gujarat.
Developed Industry Policy 2009 (specifically on the part of MSME Cluster Development) for Government of Gujarat.
Evolved the Entrepreneurship Development Programme (EDP) Model; widely being implemented as EDI EDP Model at national & international levels.
Research on 'Review of Entrepreneurship Curricula in Higher Learning Institutions' helped University Grants Commission, Govt. of India in developing entrepreneurship curriculum for college level education.
Research on 'Entry Barriers to Entrepreneurship: As perceived by Youth', facilitated the Ministry of SSI & ARI, Govt. of India in framing policy to establish Entrepreneurship and Business Development Centres in Universities.
Designed an integrated nationally replicable programme for start-ups (Village Entrepreneurship).
Formulated policy level interventions for entrepreneurship development in Cambodia, GMS Studies, Laos, Myanmar, Vietnam, Uzbekistan and several developing countries.
Global Entrepreneurship Research Association (GERA), London Business School, London, UK
Indian Institute of Management, Ranchi, India
Indian Institute of Management, Jammu, India
Dr. A.P.J. Abdul Kalam Technical University, Lucknow, India
Dr. Ambedkar International Centre, New Delhi, India
GEM India Report... World's Largest Study on Entrepreneurship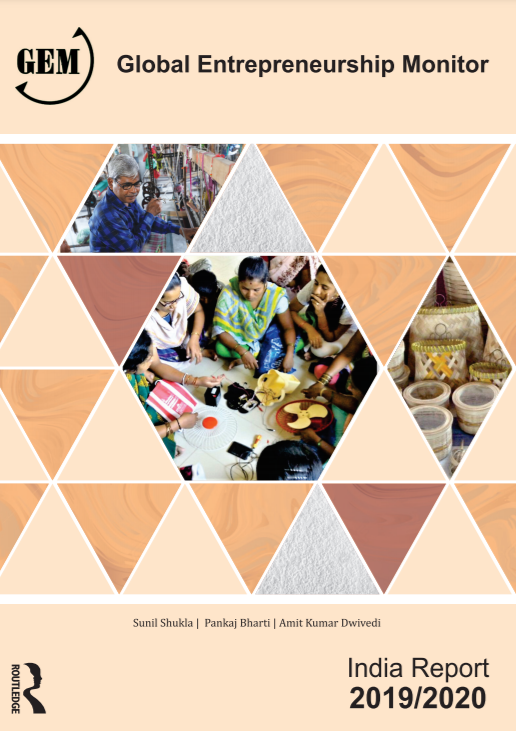 Till now, EDII has brought out 7 GEM Report. The GEM India Report is an outcome of collective efforts of GEM India consortium that strives to capture and understand the current state of affairs in Indian entrepreneurship. This report provides information on entrepreneurship ecosystem prevailing in the country and entrepreneurial activities being carried out in various states.
The GEM India study is conducted using a well-established GEM research methodology that is consistent across all participating countries and generates a variety of relevant primary information on different aspects of entrepreneurship, providing harmonised measures about individual's attributes and their activities in different phases of entrepreneurship. The key outcomes of research reported in the book are relevant to researchers, policymakers, entrepreneurs and corporate houses.
EDII Launches The Policy Brief Series
The Policy Brief Series is a thoughtful initiative in the direction of creating awareness among policy makers, institutions, entrepreneurs and other esteemed audiences about major policy interventions. It aims to create a knowledge repository.
The First Policy Brief discusses the details of the economic stimulus offered by the Govt. of India as a part of Atmanirbhar Bharat Campaign towards empowering MSMEs.
The Second Policy Brief discusses the National Education Policy 2020 and envisions to transform India into a global knowledge superpower by providing high quality education to all its citizens. The Brief discusses the various goals, key contours, and entrepreneurial dimension of the policy.
The Third Policy Brief in the series – Women Empowerment and Entrepreneurship: Building an Inclusive and Prosperous India-puts forward major policies, programmes and schemes of the Government of India which have been specially developed for women empowerment and entrepreneurship promotion in this segment of society. This issue aims to create awareness about appropriate policy interventions of the Government of India.
 
The Journal of Entrepreneurship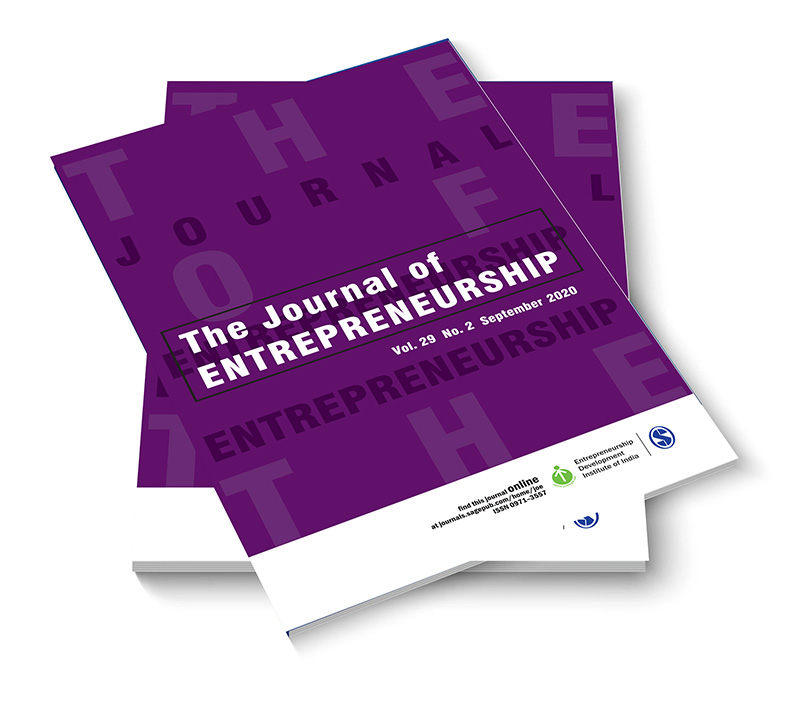 The Journal of Entrepreneurship (JoE), a bi-annual journal published by Sage Publications since 1992, is a reputed academic publication of the Institute. JoE has established its credibility among scholars in India and abroad as a unique forum to disseminate their research findings, both theoretical and empirical.
Centre for Research in Entrepreneurship Education and Development (CREED)
EDII set up the Centre for Research in Entrepreneurship Education and Development (CREED) on its campus, in the year 1997 emphasizing on research. The goal of CREED is to facilitate expansion of the boundaries of knowledge and give an identifiable thrust to the Entrepreneurship Development Movement. The focus areas of CREED include Entrepreneurship Education, Innovations in Training Techniques, Voluntary Sector: Issues and Interventions, Gender and Enterprise Development, Micro Finance and aMicro Enterprise Development and Emerging Profile of Entrepreneurship.
EDII has been organizing Biennial Conferences on Entrepreneurship for the past 27 years to explore the different facets of entrepreneurship and to provide a platform to researchers, academicians, planners and policy-makers to come together to share their research findings and experiences.