Undertaking projects for entrepreneurial and economic transformations by enhancing skills of potential/existing entrepreneurs in various sections and sectors of society, and by sensitising the Support System.
Partnering and collaborating with government and corporates to implement innovation-led projects for inclusive growth.
Institutionalizing entrepreneurship in academic and specialized institutions.
Developing and enhancing skills of potential/existing entrepreneurs in emerging sectors such as agriculture, food processing, handlooms, tourism, science and technology etc.
Designing and implementing programmes to ensure a higher incidence of entrepreneurship among disadvantaged groups, such as women, SCs/STs and the rural poor.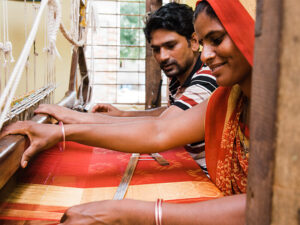 The project which commenced in 2019 would be implemented over 3 years. 'Handmade in India' is a 3-year project focused at evolving an entrepreneurial ecosystem around 6 selected handloom clusters spread across five states – Assam, Gujarat, Madhya Pradesh, Odisha & Tamil Nadu (Kamrup, Surendranagar, Bhuj, Maheshwar, Bargarh, Salem handloom clusters in India). EDII is anchoring the project in consultation with Ernst & Young (Knowledge partner), and with support from HSBC.
Read More »