IFCI Limited - Project PRERNA: Promoting Entrepreneurship by Rejuvenating and Nurturing Aspirations
EDII with IFCI Limited will help in creating entrepreneurship awareness among students of selected schools of western Uttar Pradesh. This project will focus on school students from class 8th to 10th and give them a glimpse of entrepreneurial journey from conceptualisation to business idea launch. The specific objectives will include, creating entrepreneurship-related awareness among 1500 school students in selected districts in western Uttar Pradesh (Ghaziabad and Bulandshahar districts); preparing school teachers to guide and mentor students to impart entrepreneurship-related soft skills and competencies. Entrepreneurship promotion model will be created in 15 schools, scaled among different schools of Uttar Pradesh.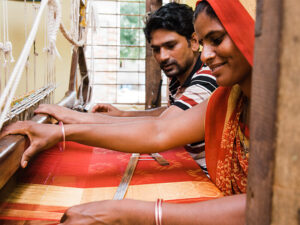 The project which commenced in 2019 would be implemented over 3 years. 'Handmade in India' is a 3-year project focused at evolving an entrepreneurial ecosystem around 6 selected handloom clusters spread across five states – Assam, Gujarat, Madhya Pradesh, Odisha & Tamil Nadu (Kamrup, Surendranagar, Bhuj, Maheshwar, Bargarh, Salem handloom clusters in India). EDII is anchoring the project in consultation with Ernst & Young (Knowledge partner), and with support from HSBC.
Read More »