Adani Enterprises Ltd. (Mining Division) - Training Programme for Microenterprise Facilitators on Enterprise Promotion and Handholding Women Entrepreneurs
EDII is associated with Adani Enterprises Ltd. to train Field officers of Adani Group engaged in microenterprise promotion in rural areas. The participants are being trained to effectively function as Facilitators for Enterprise Promotion & to Handhold Women Entrepreneurs. The participants of this programme are currently working with the rural communities in Chhattisgarh.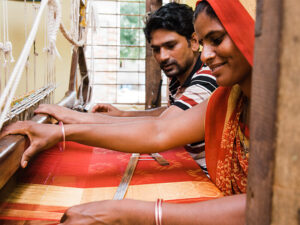 The project which commenced in 2019 would be implemented over 3 years. 'Handmade in India' is a 3-year project focused at evolving an entrepreneurial ecosystem around 6 selected handloom clusters spread across five states – Assam, Gujarat, Madhya Pradesh, Odisha & Tamil Nadu (Kamrup, Surendranagar, Bhuj, Maheshwar, Bargarh, Salem handloom clusters in India). EDII is anchoring the project in consultation with Ernst & Young (Knowledge partner), and with support from HSBC.
Read More »