TATA Power- Project Aarohan
EDII is implementing Project AAROHAN (meaning 'Ascent'), to empower the farmers, fisherfolk, and artisans through decent work and productive employment, thereby upholding the vision of Atmanirbhar Bharat Abhiyaan. The project would enhance the livelihood of farming, fisherfolk, and artisan communities of Gujarat, through poverty reduction, promoting and ensuring inclusive andsustainable economic growth, and capacity building for existing Fisher community-led enterprises at Mundra.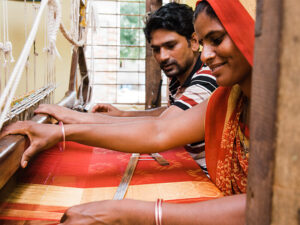 The project which commenced in 2019 would be implemented over 3 years. 'Handmade in India' is a 3-year project focused at evolving an entrepreneurial ecosystem around 6 selected handloom clusters spread across five states – Assam, Gujarat, Madhya Pradesh, Odisha & Tamil Nadu (Kamrup, Surendranagar, Bhuj, Maheshwar, Bargarh, Salem handloom clusters in India). EDII is anchoring the project in consultation with Ernst & Young (Knowledge partner), and with support from HSBC.
Read More »