Women Entrepreneurship Development Programme' of Walmart
EDII was engaged by Walmart to impart training to women entrepreneurs under its 'Women Entrepreneurship Development Programme (WEDP 3.0)'. The WEDP aimed at building capacity of Women-Owned Businesses (WOBs) across India by imparting professional and life skills to build robust and sustainable businesses.
Aimed at enhancing the participants' skills and capability to build robust and sustainable businesses.
Training was delivered to 40 WOBs in classrooms and 35 WOBs attended the virtual sessions.
The cohort represented both product categories, such as edible cutlery, eco-friendly stationary and gift items, apparel, herbal cosmetics, spices, processed food, tea, nutrition bars, as well as services sectors such as AI consultancy, energy efficient solutions, travel management solutions and research and insights, among others.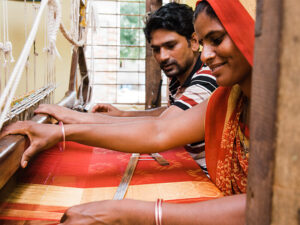 The project which commenced in 2019 would be implemented over 3 years. 'Handmade in India' is a 3-year project focused at evolving an entrepreneurial ecosystem around 6 selected handloom clusters spread across five states – Assam, Gujarat, Madhya Pradesh, Odisha & Tamil Nadu (Kamrup, Surendranagar, Bhuj, Maheshwar, Bargarh, Salem handloom clusters in India). EDII is anchoring the project in consultation with Ernst & Young (Knowledge partner), and with support from HSBC.
Read More »