"Say YES to Sustainable MSMEs in India"
A CSR Initiative of YES Bank for Achieving Sustainable Growth in Indian MSMEs
Enhancing the competitiveness of MSME clusters and improving their environmental and sustainable development has been the focus of the YES Bank supported project titled 'Say YES to Sustainable MSMEs in India'. The project aims at promoting energy efficiency and Occupational Health and Safety (OHS) measures in MSME clusters, and has been implemented in eight states namely Gujarat, Maharashtra, Madhya Pradesh, Tamil Nadu, Karnataka, West Bengal, Telangana, and Uttar Pradesh. Under the programme, MSMEs have been sensitized on the importance of energy efficiency and occupational health and safety measures. They are also being supported with target energy audit, whereby the energy auditors assess and highlight potential areas for energy saving.
Chhattisgarh, Gujarat, Karnataka, Madhya Pradesh, Maharashtra, Telangana, West Bengal, Tamil Nadu, Uttar Pradesh, Kerala, Assam
Dyeing, Rubber, Plastic, Painting, Textile, Rice Mills, Auto ancillaries, Sports goods, Pharmaceuticals, Printing & Packaging, Chemicals, Food Processing, Industrial Engineering (Foundry, Industrial tools and pumps, General Engineering, Electrical etc.)
27,450 workers from 14,947 MSMEs have been sensitized on energy efficiency and occupational health & safety measures.
Sensitization Workshops for promoting Sustainable MSMEs in India
Promoting Environmental Sustainability in MSMEs through Energy Conservation
Promoting Occupational Health and Safety (OHS) in MSMEs
Entrepreneur Development Programmes
Entrepreneurship awareness programmes for Women artisans and Skill–based entrepreneurs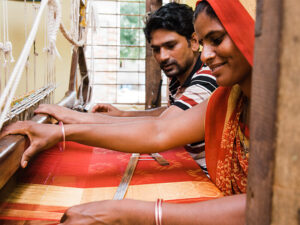 The project which commenced in 2019 would be implemented over 3 years. 'Handmade in India' is a 3-year project focused at evolving an entrepreneurial ecosystem around 6 selected handloom clusters spread across five states – Assam, Gujarat, Madhya Pradesh, Odisha & Tamil Nadu (Kamrup, Surendranagar, Bhuj, Maheshwar, Bargarh, Salem handloom clusters in India). EDII is anchoring the project in consultation with Ernst & Young (Knowledge partner), and with support from HSBC.
Read More »