World on Wheels (WOW) Project of Hewlett Packard
Digital Empowerment and training of Rural community by HP WoW Bus.
As part of the MoU signed with Hewlett Packard (HP), EDII and HP are creating digital literacy among the rural population under the project 'World on Wheels'. The project focuses on building and deploying internet-enabled digital inclusion and learning labs to facilitate digital literacy, education programming, entrepreneurship training, and other community services in rural India. Mobile computer labs (big multi axle buses with computer lab set up) have been equipped with necessary paraphernalia. During its stay at the designated villages, the bus extends its services for 10 hours, of which 4 hours is devoted to school children, 3 hours to youth, 1 hour for dispensing common services like Aadhaar, MeeSeva services etc, and 2 hours for creating awareness on government schemes and various development themes.
Gujarat, Madhya Pradesh, Uttar Pradesh, Odisha and Jharkhand
A total of 12853 (direct beneficiaries) and 52505 (indirect beneficiaries) underprivileged youth covering 741 villages of five project states have been empowered with computer knowledge.
Five Special Purpose Vehicle developed into a mobile computer lab to annually training over 140000 individuals including school students, youths, and women.
Extend awareness about digital literacy, water, sanitation & hygiene, innovations in Science & Technology, engineering & mathematics, health & nutrition, etc., and thereby bridge the digital education gap encountered by those living in remote regions.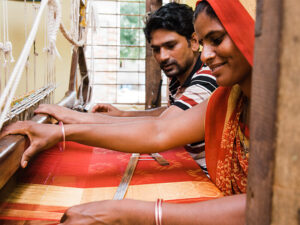 The project which commenced in 2019 would be implemented over 3 years. 'Handmade in India' is a 3-year project focused at evolving an entrepreneurial ecosystem around 6 selected handloom clusters spread across five states – Assam, Gujarat, Madhya Pradesh, Odisha & Tamil Nadu (Kamrup, Surendranagar, Bhuj, Maheshwar, Bargarh, Salem handloom clusters in India). EDII is anchoring the project in consultation with Ernst & Young (Knowledge partner), and with support from HSBC.
Read More »