Initiative to improve India's Agricultural Landscape Through Women Agriculturists – Agro Management Programme (AMP)
Mission Sunehra Kal, 'Skill Development Programme for Women Agriculturists
As part of ITC's CSR interventions, Institute is setting up Custom Hiring Centers (CHCs) in Shirur near Pune. Capacity building programmes have been conducted to train Joint Liability Groups (primarily women) to start CHCs, and Members of Maharashtra State Rural Livelihoods Mission and Mahila Arthik Vikas Mahamandal (MAVIM) have been provided training to pursue sustainable livelihood opportunities.
Women Farmers shall be trained as Agripreneurs who shall establish a business and run their enterprises sustainably.
Women Agripreneurs shall have knowledge and easier access to finance and markets thereby promoting financial inclusivity
Direct and Indirect employment opportunities created by the Women Agripreneurs
More Value addition of Products and less wastage of the produce ensuring sustainability
Women Empowerment through closing of the gender gap and sustainable livelihood shall be the key result of the intervention in the long term.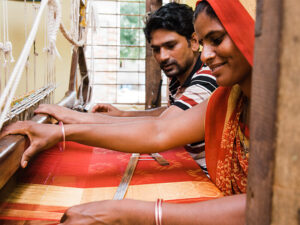 The project which commenced in 2019 would be implemented over 3 years. 'Handmade in India' is a 3-year project focused at evolving an entrepreneurial ecosystem around 6 selected handloom clusters spread across five states – Assam, Gujarat, Madhya Pradesh, Odisha & Tamil Nadu (Kamrup, Surendranagar, Bhuj, Maheshwar, Bargarh, Salem handloom clusters in India). EDII is anchoring the project in consultation with Ernst & Young (Knowledge partner), and with support from HSBC.
Read More »