Oil and Natural Gas Corporation Limited (ONGC), has entered into an MOU with EDII for promoting self–sustainable organizations for the tribal Community in the Dang District of Gujarat. The 3 years project will conclude in 2025. The interventions are as follows.
Formation of SHGs and institutional building
Capacity building: To ensure capacity building of the tribal community, EDII organises Skill Development and Entrepreneurship development programmes; offers opportunity guidance for enterprise creation; helps prepare technically feasible and economically viable project reports; provides backward and forward linkages and implements individual development plan (wage employment/enterprise promotion)
Formation of the producer's organization
Transforming producer organisations into self- sustaining organisations
Outcome:
Enhancement of quality of life in tribal community.
Increase in their income by 10% due to enhanced skills and competencies
Promotion of viable enterprises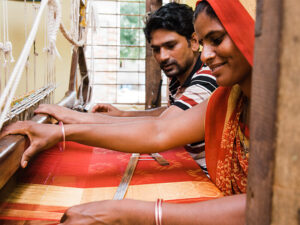 The project which commenced in 2019 would be implemented over 3 years. 'Handmade in India' is a 3-year project focused at evolving an entrepreneurial ecosystem around 6 selected handloom clusters spread across five states – Assam, Gujarat, Madhya Pradesh, Odisha & Tamil Nadu (Kamrup, Surendranagar, Bhuj, Maheshwar, Bargarh, Salem handloom clusters in India). EDII is anchoring the project in consultation with Ernst & Young (Knowledge partner), and with support from HSBC.
Read More »