Entrepreneurship Development Programme for SC/ST in Pune District (2015-19)
Promoting Entrepreneurship amongst Individuals and Self-Help Groups from SC/ST Youths
Sponsored by TATA Communication Ltd. Pune, the programme 'Promoting Entrepreneurship amongst Individuals and Self-Help Groups from Affirmative Action Communities in Pune District' aimed at developing entrepreneurial capacity and business competence among SC/ST, people from weaker sections and SHG members, for sustainable income through enterprise creation in communication. The 54-month project began in December 2015.
204 trainees have been trained through 8 Entrepreneurship Development Programmes (EDPs)
85 trained entrepreneurs have established their enterprises against the target of 100
39 potential entrepreneurs have applied for funding support under PMEGP and Stand-up India schemes.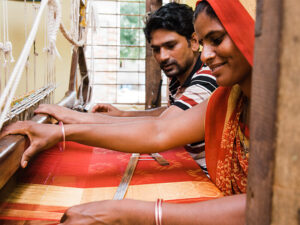 The project which commenced in 2019 would be implemented over 3 years. 'Handmade in India' is a 3-year project focused at evolving an entrepreneurial ecosystem around 6 selected handloom clusters spread across five states – Assam, Gujarat, Madhya Pradesh, Odisha & Tamil Nadu (Kamrup, Surendranagar, Bhuj, Maheshwar, Bargarh, Salem handloom clusters in India). EDII is anchoring the project in consultation with Ernst & Young (Knowledge partner), and with support from HSBC.
Read More »