'Skills to Succeed Goal 2020' Project of Accenture
Addressing the global need of skills that open the doors to employment and economic opportunity.
With the proven success of imparting Skill-based Entrepreneurship training to the Rural populace for the past 5 years and with the experience of training over 24000 women through 542 programs in 14 states throughout India, EDII has made its mark in aligning to the UN SDG's of No Poverty, Zero Hunger, Gender Equality, Sustainable community and Decent work and Economic growth. Accenture Skills to Succeed Project has proved its mettle in empowering women not only by motivating them to be entrepreneurial but also by promoting Rural Enterprises and providing Capacity building initiatives for livelihood promotion. The interventions by EDII and Accenture had indeed produced great successes among the rural community with more than 60 to 70% transformations with trained women groups forming small enterprises and business units based on Food & Agro Products, Household Products, and Art & Crafts. With this proven experience and with the unique model of Skill plus Entrepreneurship, EDII had taken up the challenge to fulfill the goal of strengthening the lives of rural women through different possible training models even during the pandemic period.
Karnataka, Telangana, Tamil Nadu, Kerala, Andhra Pradesh, Maharashtra, Goa, Puducherry, Madhya Pradesh, Uttarakhand, Assam, Tripura, Meghalaya
Training Provided to 29462 Youth each programme through 530 Programmes across 13 States.
80% of the trainees have set up their own enterprises.
Develop micro entrepreneurs from among rural women and youth of the marginalized and backward communities.
Promote socio-economic development through livelihood creation, employment generation, asset creation and revenue generation on a sustainable basis
Develop knowledge infrastructure, indigenous skills, art and best practices
Promote financial autonomy, particularly among women and local youths
Widespread social development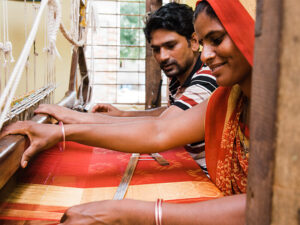 The project which commenced in 2019 would be implemented over 3 years. 'Handmade in India' is a 3-year project focused at evolving an entrepreneurial ecosystem around 6 selected handloom clusters spread across five states – Assam, Gujarat, Madhya Pradesh, Odisha & Tamil Nadu (Kamrup, Surendranagar, Bhuj, Maheshwar, Bargarh, Salem handloom clusters in India). EDII is anchoring the project in consultation with Ernst & Young (Knowledge partner), and with support from HSBC.
Read More »