Kone Elevators and Escalators- Project AASHRAY
The EDII project team initiated the project AASHRAY in Maharashtra's Pune and Nashik districts. The project would empower 157 Persons with Disability (PwD) through enterprise creation and growth programs.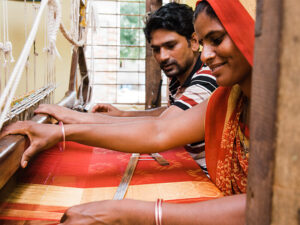 The project which commenced in 2019 would be implemented over 3 years. 'Handmade in India' is a 3-year project focused at evolving an entrepreneurial ecosystem around 6 selected handloom clusters spread across five states – Assam, Gujarat, Madhya Pradesh, Odisha & Tamil Nadu (Kamrup, Surendranagar, Bhuj, Maheshwar, Bargarh, Salem handloom clusters in India). EDII is anchoring the project in consultation with Ernst & Young (Knowledge partner), and with support from HSBC.
Read More »