Reliance Foundation- Training of trainers on Micro Enterprise Development Programme
EDII is engaged with Reliance Foundation to train Development Professionals of the Foundation, working in the domain of Non-Farm livelihoods. The participants are being given training on micro enterprise management, growth and development.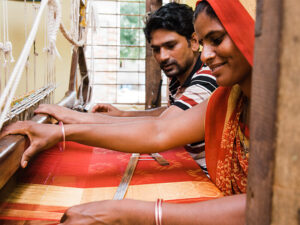 The project which commenced in 2019 would be implemented over 3 years. 'Handmade in India' is a 3-year project focused at evolving an entrepreneurial ecosystem around 6 selected handloom clusters spread across five states – Assam, Gujarat, Madhya Pradesh, Odisha & Tamil Nadu (Kamrup, Surendranagar, Bhuj, Maheshwar, Bargarh, Salem handloom clusters in India). EDII is anchoring the project in consultation with Ernst & Young (Knowledge partner), and with support from HSBC.
Read More »