State Bank of India Foundation (SBIF)
EDII has partnered with the State Bank of India Foundation (SBIF) for the skill development and training of 750 persons with disabilities (PwDs) under SBI's Corporate Social Responsibility (CSR) project – Swavlamban. EDII will implement the project in Anand, Kheda, Gandhinagar, Ahmedabad, and Arvalli districts of Gujarat. The main objective of the project is to help PwD entrepreneurs expand their market reach and ensure an increase in their incomes.
Under the project, EDII will provide enterprise promotion training to 750 differently-abled people which includes 500 individual entrepreneurs and 250 Member Based Organisations (MBOs) entrepreneurs. Ten MBOs will be formed for 250 differently-abled entrepreneurs as a cooperative or Self Help Group (SHG). These MBOs will be provided mentoring and support for network-building, increasing market reach and finance.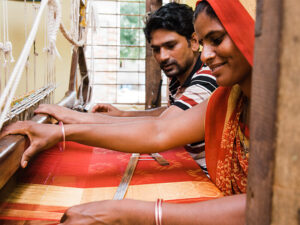 The project which commenced in 2019 would be implemented over 3 years. 'Handmade in India' is a 3-year project focused at evolving an entrepreneurial ecosystem around 6 selected handloom clusters spread across five states – Assam, Gujarat, Madhya Pradesh, Odisha & Tamil Nadu (Kamrup, Surendranagar, Bhuj, Maheshwar, Bargarh, Salem handloom clusters in India). EDII is anchoring the project in consultation with Ernst & Young (Knowledge partner), and with support from HSBC.
Read More »