EDII has been partnered with Xiaomi India to launch Skillpreneurship Learning Centres for Youth Empowerment for implementing Project SPARK.
The project aims at empowering 600 young individuals across districts of Karnataka and Maharashtra in Phase 1, spread over one year individuals by imparting them training in skills and entrepreneurial competencies in selected trades.
Under the project, Skillpreneurship Learning Centres (EXSL Centres) will be established for imparting comprehensive skill & entrepreneurship related training in selected key areas to ensure that youths become job ready and equipped to float small ventures.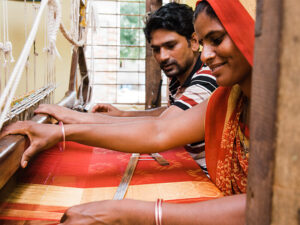 The project which commenced in 2019 would be implemented over 3 years. 'Handmade in India' is a 3-year project focused at evolving an entrepreneurial ecosystem around 6 selected handloom clusters spread across five states – Assam, Gujarat, Madhya Pradesh, Odisha & Tamil Nadu (Kamrup, Surendranagar, Bhuj, Maheshwar, Bargarh, Salem handloom clusters in India). EDII is anchoring the project in consultation with Ernst & Young (Knowledge partner), and with support from HSBC.
Read More »