Implementing Skill and Entrepreneurship Development Interventions at Karnali under Sansad Adarsh Gram Yojana
Skill Development Programme for Women at Youth of Karnali Village
In this 3-year project which began in 2015, EDII has empowered, educated and engaged women and youth of Karnali by providing them entrepreneurial skills and capacity building training in various trades. Interventions also included financial handholding support to the participants to start a micro venture. Participants were given hands-on-training to manufacture different types of products including coloured candles, face cream, and snacks and sweets, and were also given training in digital literacy. Several beneficiaries have set up micro ventures and are scaling up in terms of production capacity.
Karnali Group Panchayat in Gujarat
Training Provided to 400 Youth each programme comprising of 5 Days
42 people have set up their Enterprises thereby providing employment to other members of the village.
To improve the quality and standard of living in Karnali Group Panchayat by focusing on:
Improved basic amenities
Human resource development
Better livelihood opportunities
Access to rights and entitlements
Wider social mobilisation
Enriched social capital
Higher productivity
To develop replicable models for local self-governance
To ensure holistic development of villages by intervening through training and financial handholding in various sectors/areas.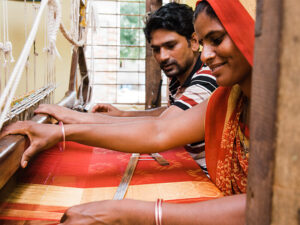 The project which commenced in 2019 would be implemented over 3 years. 'Handmade in India' is a 3-year project focused at evolving an entrepreneurial ecosystem around 6 selected handloom clusters spread across five states – Assam, Gujarat, Madhya Pradesh, Odisha & Tamil Nadu (Kamrup, Surendranagar, Bhuj, Maheshwar, Bargarh, Salem handloom clusters in India). EDII is anchoring the project in consultation with Ernst & Young (Knowledge partner), and with support from HSBC.
Read More »