Programmes for Existing Entrepreneurs​
The vision for economic development for many countries is ensconced in improving the overall entrepreneurial climate for New Enterprise Creation and enhance performance of existing ones. Sustaining an enterprise is as much a challenge as setting up a business. Existing entrepreneurs, if trained in spotting growth avenues, planning for growth and dealing with challenges, they can easily sail through the vicissitudes of business. EDII ensures this for entrepreneurs across the globe.
Conducted Training Programme for Existing Entrepreneurs in Mauritius where 50 participants benefitted from the training inputs on competency development, business plan preparation, business opportunity identification, project counselling, business opportunities in Mauritius, local resources and market survey. The programme was sponsored by Development Bank of Mauritius.
Under sponsorship of Indian High Commission in Mauritius & Development Bank of Mauritius, organised Entrepreneurial Orientation Seminar for potential and existing entrepreneurs, on business opportunities in Mauritius, business plan preparation, technology selection and entrepreneurial competencies.
Conducted Entrepreneurship Development Programme (EDP) for tiny and small enterprises financed by the Development Bank of Mauritius. The outcome of the programme was reflected in the bank and the government's acceptance to develop skills and capabilities to improve performance of local entrepreneurs.
Conducted Senior Management Development Programme (SMDP) for SME Leaders from Malaysia. The programme aimed at developing capabilities of SME business leaders in Business strategies and Strategic thinking, Innovation, Productivity and Efficiency, Business sustainability, and Human capital development. All 21 participants were provided post programme support for a period of 12 months.
A Growth programme was organised at the behest of Industrial Enterprise Development Institute (IEDI), Nepal in Kathmandu during December 14-16, 1997 for 20 existing entrepreneurs. The participants were provided skills to understand the nuances of enterprise growth and chalk out action plan for growth.  In order to ensure sustainability of results, on-the-job training was also provided to IEDI faculty members towards organizing such growth programmes in future.
Organized Growth Programme in Royal University of Bhutan. The Programme focussed on helping 17 existing entrepreneurs get insight into their strengths & weaknesses and plan systematically on the basis of knowledge acquired.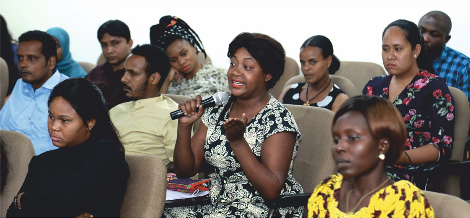 Women entrepreneurship is one of the core areas where EDII has intervened successfully to bring women to the forefront of the economic world.
Read More »