Investment Promotion and Entrepreneurship
EDII undertook projects to accelerate growth through Investment  Promotion & Entrepreneurship under the aegis of Inter-Regional Centre for Entrepreneurship and Investment Training sponsored by UNIDO and Govt. of India.
The Inter Regional Centre (IRC) for Entrepreneurship and Investment Training set-up at the Institute aimed at developing and strengthening indigenous capacities of selected countries in Asia, Africa and Arab regions for investment promotion and entrepreneurship development leading to accelerated industrial development and globalization of economies. The countries where interventions were primarily targeted were; Mozambique, Sudan, Yemen and Bahrain.
The projects/activities accomplished include:
Investment Opportunities Identification: Project designed to inculcate an in-depth understanding of new sources/processes of business opportunity identification, target groups and their specific needs, and concepts and techniques of scanning the environment for possible business opportunities.
Industrial Project Preparation and Appraisal: These training programmes honed the skills of investment decision makers, consultants, bank officials and project analysts.
Project Planning, Implementation & Monitoring/Evaluation: Officials and consultants responsible for planning and implementation of industrial projects are imparted up-to-date skills so that the viability of the project does not remain questionable.
Investment Promotion and Capital Market Development: These workshops were especially designed for policy makers, investment promotion officers, consultants and financial specialists.
New Enterprise Creation & Enterprise Performance and Growth: The programmes aim at grooming SME promotion officers, entrepreneurship trainers, Development personnel, teachers and counsellors to conduct training programmes in facilitating setting up of new enterprises as also ensuring viability of the existing ones.
EDII facilitated the process of setting up Arab Regional Centre for Entrepreneurship and Investment Training (ARCEIT) in Manama, Bahrain; Advisory Centre for Industrial Development (CADI) in Mozambique; initiated ED activities in Jordan and Kuwait, built capacity of over 200 professionals in Islamic Development Bank, Jeddah, in the area of Project Development Cycle  and supported potential entrepreneurs in setting up their own enterprises. The Institute also strengthened existing entrepreneurs in diversifying their ventures through Enterprise Upgradation (EU) process.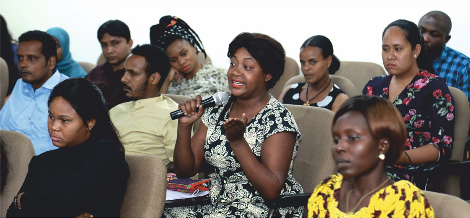 Women entrepreneurship is one of the core areas where EDII has intervened successfully to bring women to the forefront of the economic world.
Read More »