Institution Building for Strengthening Entrepreneurship
EDII has come forward in a big way to provide technical assistance to developing nations under the aegis of the Ministry of External Affairs, Govt. of India. EDII's vision also advocates institution building for concretising entrepreneurship. In order to, therefore, replicate the success story of promoting first generation entrepreneurs through training and counselling interventions, the Institute took up the task of setting up EDII-like institutions across the world.  In this concept-to-completion approach, work involves feasibility study, entrepreneurship appreciation workshop for the policy makers and planners, identification of viable business opportunities, setting up a library on entrepreneurship, long term advisory services to the Centre, policy framework for promotion of SMEs and organizational framework for an Entrepreneurship Development Centre (EDC). The Institute has set up EDCs at Cambodia, Lao PDR, Myanmar, Vietnam and Uzbekistan. Work is in progress in countries like Rwanda and other selected African countries.
The process of establishing centres include:
Feasibility Study
Appreciation Workshops for policy makers and planners
Workforce selection and orientation
Training of Trainers to create a cadre of trained professionals who could consolidate the learning
Business Opportunity Identification
Developing teaching & training aides
Setting up financial and administrative system
Long-term Advisory services for sustainability of the Centre
Lao-India Entrepreneurship Development Center (LIEDC) at Vientiane
Cambodia India Entrepreneurship Development Centre (CIEDC) at Phnom Penh which was later re-christened as National Institute of Entrepreneurship and Innovation (NIEI)
Myanmar India Entrepreneurship Development Centre (MIEDC) at Yangon
Vietnam India Entrepreneurship Development Centre (VIEDC) at Hanoi
India-Uzbekistan Entrepreneurship Development Centre (IUEDC) at Tashkent

Rwanda – India Entrepreneurship Development Centre (RIEDC) at Kigali
Similar Centres are proposed in selected other African countries
The Vision of the Centres Established
The Centres will spearhead entrepreneurship development movement in their respective countries to promote a conducive environment, thus becoming Centres of Excellence for facilitating creation of viable and competitive new enterprises and strengthening of the existing ones. It will endeavour to create resilient, indigenous entrepreneurs who will be efficient in the competitive global market.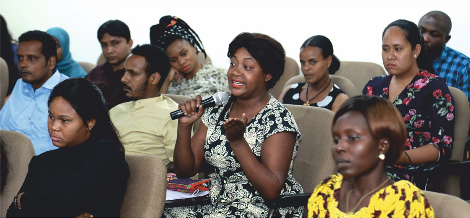 Women entrepreneurship is one of the core areas where EDII has intervened successfully to bring women to the forefront of the economic world.
Read More »