Capacity Building Programmes​
In order to meet specific needs of developing countries, the Institute has been designated as a Nodal Agency of Ministry of External Affairs, Government of India. Under Indian Technical Economic Cooperation, Ministry of External Affairs, Govt. of India, close to 161 countries in Asia, Africa, East Europe, Central Asia and Latin America are invited to share the Indian developmental experience in various areas and spheres of entrepreneurship and capacity building. EDII conducts capacity building in the following areas:
Two-year Post Graduate Diploma in Management – Business Entrepreneurship (PGDM –BE)
Empowering Women through Entrepreneurship Development
Industrial, Infrastructure and Sustainable Project Preparation and Appraisal
Entrepreneurship and Small Business Promotion
Capital Markets & Investment Banking
Informal Sector Enterprise, Entrepreneurship & Local Economic Development
SME Banking & Financial Services
Agri-Entrepreneurship & Supply Chain Management
Entrepreneurial Management
Business Research Methodology & Data Analysis
Promoting Innovations & Entrepreneurship through Incubation
Cluster Development Executives'(CDEs) Programme
Sustainable Livelihoods & Mainstreaming with Market
Entrepreneurship Education to strengthen Emerging Economies
In order to impart sustainability to its efforts in the field of entrepreneurship development, EDII undertook a host of activities to institute a cadre of Trainers who could take the mantle forward. The following programmes were organised in this area:
The first full-fledged ILO sponsored Training of Trainers' course organized for 12 vocational training instructors and development officers from Malawi in view of the then existing conditions in the region and the field action inputs.
Conducted Training of selected trainers from Senegal, Togo and Guinea-Conakry at EDII under the sponsorship of the World Bank.
Trainers' Training Programme on 'Entrepreneurship Education' was organised under sponsorship support of Commonwealth Association of Polytechnics in Africa (CAPA), representing 25 CAPA led institutions and 11 Commonwealth African Countries . Inputs were imparted in the areas of planning and organizing workshop with emphasis on design and management of Entrepreneurship Skill Development Programmes in Polytechnics at Malawi.
Entrepreneur Trainer-Motivators' Training Programme was organized at Ghana for institutionalizing entrepreneurship development in their respective countries. The initiative was sponsored by Commonwealth Secretariat, London.
Training programme was conducted In Tanzania under sponsorship of UNIDO for creating a cadre of trainers designing and implementing training programmes in the areas of industrial management, entrepreneurship development and project development cycle.
'Training of Trainers' programme was organised as a part of 'Fostering Innovation and Re-fuelling Entrepreneurship (FIRE)' programme for Govt. of Malaysia by Human Resources Development Fund-HRDF (Pembangunan Sumber Manusia Berhad-PSMB) Government of Malaysia, to impart entrepreneurial knowledge and skill set, as well as to enhance the capabilities of trainers in delivering training for up-skilling and re-skilling of Malaysian women, low household income community and youth.
'Training of Trainers' Programme was offered to senior management of Majlis Amanah Rakyat (MARA) to impart skills in Business Opportunity Identification and Business Plan Preparation, in addition to inputs on achievement-motivation training. The training was organised at MARA, Jawi Campus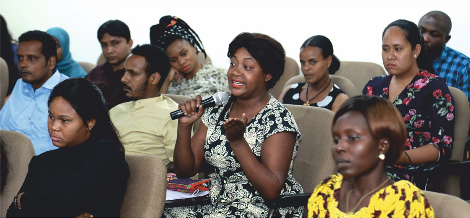 Women entrepreneurship is one of the core areas where EDII has intervened successfully to bring women to the forefront of the economic world.
Read More »