Scheme of Fund for Regeneration of Traditional Industries [SFURTI] and Scheme of Agro Based Food Processing [ABFPI]
The SFURTI Scheme, sponsored by the Ministry of MSME, Government of India aims at creating common infrastructure in the cluster and benefitting artisans through skill upgradation and distribution of advanced tools and equipment. The scheme also targets providing support for long term sustainability and enhancing marketability of the products.
As Technical Agency (TA) for developing handicraft and village industries clusters, EDII is currently working with two Nodal agencies, Khadi and Village Industries Commission [KVIC] & Council of Handicrafts Development Corporations (COHANDS).The Institute is supporting 15 clusters spread across Uttar Pradesh (10), Gujarat (1), Madhya Pradesh (1), Rajasthan (1), West Bengal (1) and Kerala (1).
EDII, as Technical Agency aims at:
extending support to ensure sustainability and growth of enterprises through improvements in technology, skills and quality
creating awareness among cluster entrepreneurs to ensure access to capital and markets
sensitizing support system officials and strengthening other stakeholders to ensure the sustainability of the development efforts initiated
creating a common facility centre to facilitate cluster
distributing advanced tools and equipment in the cluster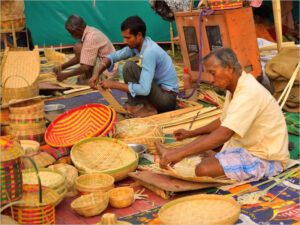 The objective of Cluster Development project is to facilitate holistic development of MSME clusters.
Read More »