Promoting Bamboo based Entrepreneurship
The project, 'Implementing Bamboo Based Entrepreneurship and Livelihood Development Programme', under support of National Mission on Himalayan Studies (NMHS), Ministry of Environment, Forest and Climate Change, Govt. of India was implemented with the objective of promoting innovative means of entrepreneurship promotion and livelihood development benefiting artisans in the bamboo product clusters in Tripura. Product specific entrepreneurship development programmes, entrepreneurship awareness camps, design development involving BDSPs, market linkages and branding and technology up gradation were conducted successfully leading to new enterprise creation in the bamboo product sector. The outcomes were also reflected in upgradation of existing enterprises, productivity and quality improvement, income generation, product diversification and improved standard of living.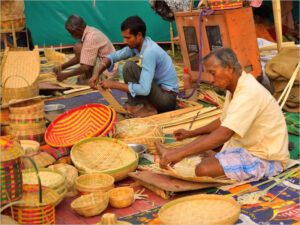 The objective of Cluster Development project is to facilitate holistic development of MSME clusters.
Read More »