Entrepreneurship and Skill Development Programmes (E-SDP)​
The objective of the programme is to motivate youth from different sections of society including SC/ST/women, differently-abled, ex-servicemen and BPL persons to consider self-employment or entrepreneurship as a career option. The ultimate objective is to promote new enterprises, ensure capacity building of existing MSMEs and float an entrepreneurial culture in the country. Activities have been undertaken in 17 states, namely; Assam, Tamilnadu, Madhya Pradesh, Kerala, Karnataka, Chhattisgarh, Gujarat, Haryana, Jammu and Kashmir, Jharkhand, Maharashtra, Odisha, Punjab, Telangana, Uttar Pradesh, West Bengal, and Uttarakhand. The initiative comprises the following modules:
Industrial Motivational Campaign (IMC)
Entrepreneurship Awareness Programme (EAP)
Entrepreneurship-cum-Skill Development Programme (E-SDP)
Management Development Programme (MDP)
IMC leads to increased awareness among the participants about prospects of entrepreneurship, procedures of creating new enterprises and different government schemes, funding opportunities etc. The youths and prospective entrepreneurs get motivated to set up micro-enterprises in traditional/non-traditional domains.
EAP  trains the participants about entrepreneurship in general and procedures of starting an enterprise in particular. They also understand different government schemes, funding opportunities, entrepreneurial risks and returns. Participants develop the motivation to start new enterprises. Having attended the programme, the participants have a clear and executable business plan so much so that they are able to immediately undertake measures for launching their enterprises.
E-SDP enhance awareness and knowledge of participants about various entrepreneurial aspects and skill domains and policies and schemes of the Government, funding opportunities, calculated risks, Business opportunities, Business Plan Preparation and related areas. . The programme also aims at  imbibing learning on new skills and  trades. So, this programme ensures that the participants use their entrepreneurial as well as technical skills to set up sustainable enterprises.
MDPs aim at improving managerial and organisational efficiency of entrepreneurs and managers at their enterprises.
These programmes are conducted with the support of DC(MSME), Ministry of MSME, Govt. of India.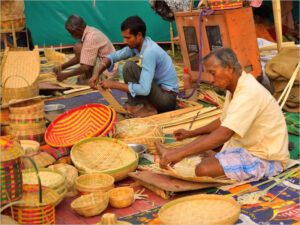 The objective of Cluster Development project is to facilitate holistic development of MSME clusters.
Read More »