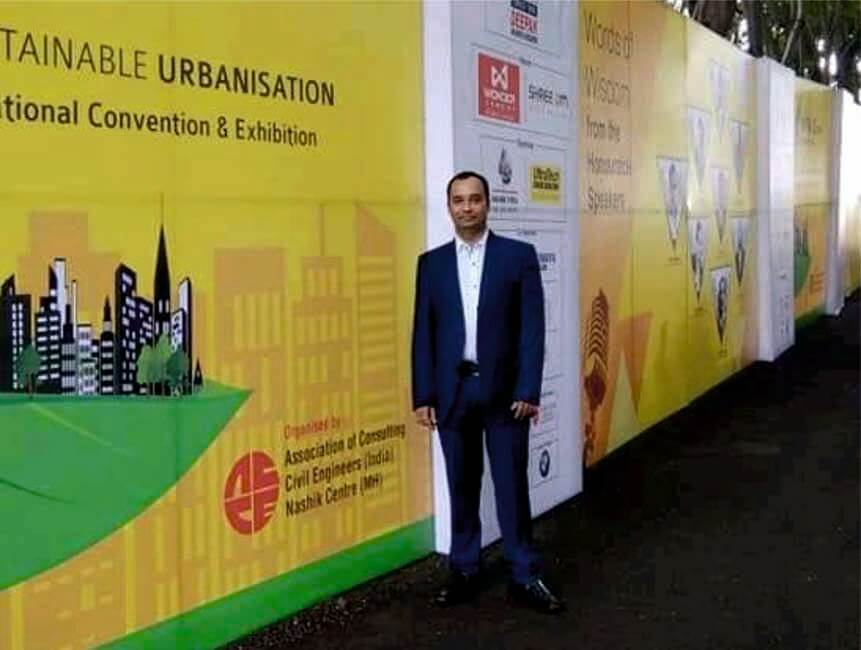 A flourishing family business can either make a successor complacent, prompting to simply sit back and see the business roll naturally or induce in him/her the will and the energy to add wings to business, thus multiplying its growth. EDII alumnus, Nilesh Sonaje fortunately belonged to the latter category.
Nilesh, who hails from Nashik, had grown up seeing his father struggle from being a brick supplier to construction sites, to entering full-fledged Real Estate business. Drawing inspiration from him, he looked forward to being known as an accomplished businessman. Nilesh wanted to stick to the construction field, and better still, desired to take his family business to enviable heights.
He, therefore, pursued Civil Engineering. The dream of escalating Sonaje Infrastructure, his father's firm, always kept him motivated. Whenever he got a chance he discussed the finer aspects of construction business with his father. He says, "I tried to keep myself updated on the happenings at the macro level in the space of construction." However, through his partial involvement in business during college days and his father's business-related concerns that he had witnessed often, Nilesh could gauge the importance of knowledge beyond just technical skills, to run an enterprise. He, therefore, decided to equip himself with skills and competencies mandatory for a good entrepreneur, before taking the plunge into business. He got to know about EDII as the premier National Resource Institute in the field of entrepreneurship education, and immediately appeared for related entrance exams in his fourth year of college, to secure admission at EDII. Fortunately, he cleared the exams and got a seat in the Post Graduate Diploma in Management _ Business Entrepreneurship, at EDII. Nilesh specialised in Family Business Management. As he says, "Joining EDII was by far the most rewarding decision. I learnt aspects related to business formalities, diversification, finance and management which I would have otherwise taken years to understand."
Nilesh discussed his family business with EDII experts and pitted every characteristic of business against an ideal yardstick. Such an analysis helped him identify the gaps and the solutions that could be implemented. While at EDII, as Nilesh says, "I had done 50 percent of the task. All I needed to do was to go on the field and implement to see results."
Regular classes, brainstorming sessions, discussions with entrepreneurs and field visits enlightened him. He developed a five-year growth plan for his business. This was validated by family business experts. Nilesh also discussed with his father and incorporated the inputs. Nilesh reflects, "I could foresee the change that was about to come, and couldn't wait to implement the five-year growth plan." Nilesh immediately went on to the field and got involved in every department of the enterprise. His analysis of his business, while at EDII, was his base that he worked from, and hearteningly, he excelled.
No wonder, today Sonaje Infrastructure Pvt Ltd at Nashik, is involved in construction of roads, drainage systems, airport runways, residential & commercial complexes, etc. The group also moved on to own a centrally located hotel in Nashik.
Summing up his experience, Nilesh says, "When one joins family business, there is always a certain expectation, and with it comes the pressure to perform. My training had given me the will to work under such pressure and in the course of it, I came face-to-face with my strengths and weaknesses. My family was supportive and welcomed the changes that I came up with. I was learning every day – managing on-field issues, handling staff, evaluating risks and markets, amalgamating resources, overseeing finance – I learnt and grew as a business person."
Networking is also an area that Nilesh realises is of critical importance in business. He is a member of Rotary Club and several industry associations. This has helped him connect with business people. As Chairman of CSR NAR INDIA Nilesh got an opportunity to network with realtors across India and he successfully initiated and completed several projects.
Nilesh is also a philanthropist who has made commendable contribution to the pressing problems of illiteracy, poor health, environment degradation etc. Some of his remarkable projects include National Tree Plantation drive in 40 cities where in all, around 1000 trees were planted successfully over a period of 3 years; National Blood Donation drive wherein 500 blood bottles were collected from across India. He is the man behind campaigns such as; Joy of Giving, Warm-Up India that have helped thousands of poor and needy across India.
Today Nilesh is looked up by many would-be entrepreneurs for inspiration. When he began his journey, he had set high standards for himself, and as he says, "by God's grace I could find the strength to gear up and work towards my goals. I was fortunate to have taken the right decisions most of the time. But as they say, the road to success is always under construction, so I have miles to go yet, before I can call myself successful."
Nilesh has even bigger milestones to reach for. He has ambitious plans and is working towards them judiciously. Advising aspiring entrepreneurs, he says, "Once decided, plan carefully, don't be in a hurry, get equipped in every way and then march ahead with confidence."

We wish even bigger success to this crowning glory of the world of construction!!!