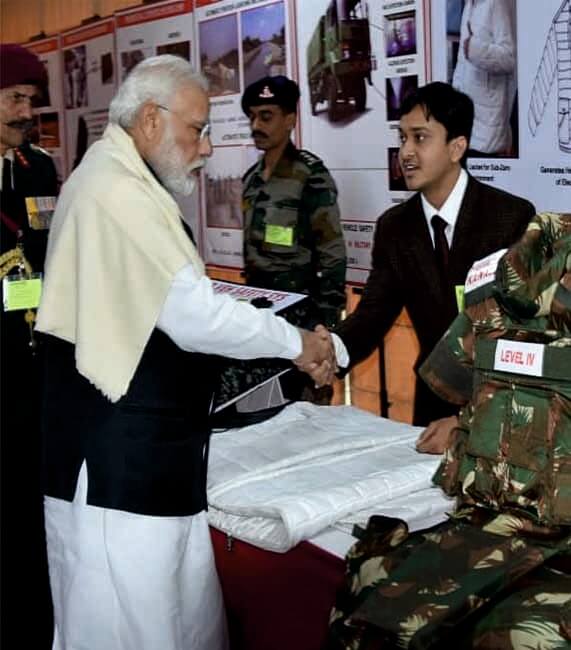 Neel Panchal is a man on a mission… A resolute will to succeed defines him. Learning and exploring are his favourite words.
Born in Ahmedabad, Neel completed his Bachelors in Mechanical Engineering in 2011 and joined Post Graduate Diploma in Management – Business Entrepreneurship in the same year with the objective of learning the finer nuances of Family Business Management.
His 100-year old family business – 'L.H.P Industries' – is into manufacturing of goldsmith rolling machines and hydraulic presses. Since childhood, Neel has been surrounded by machines which explain his passion for machines and his decision to pursue Mechanical Engineering.
Neel always exhibited the motivation to do something new and unique. His keenness to continue learning motivated him to join EDII. At the time of joining EDII, he was clear that post his course, he would get associated with his family business. He was confident about making valuable contribution with his new insights. However, down the line, he got introduced to the energy sector which intrigued him and he decided to float his own start up. Innovative that Neel has always been, he worked hard towards coming up with an innovative, new products where he could make a headway.
He launched 'LHP Nano Technologies LLP' which eventually got incubated at EDII's Technology Business Incubator. The startup researched to produce graphene, a single thick layer atom which is 300 times stronger than steel, 10 times more electrically as well as thermally conductive than copper and silver. It is the lightest material on earth. The company manufactures Graphene, Graphene Oxide and Reduced Graphene Oxide at industrial scale. The current applications that Neel is working on is membranes for water purification, graphene fibres for smart textiles and Graphene inks and pastes. The pilot scale production unit has been installed. Number of samples has been synthesized for different applications. Samples for conductive inks has got positive results which is under process for commercialization. Moreover, other samples show great potentials for energy storage as well as water purification.Neel's parents wanted him to contribute to family business and were, therefore, not supportive of his idea of floating a start up. As Neel says, "It took a series of discussions to convince them."
Since Neel had ventured into an area which was not quite known in the markets, he undertook an elaborate research before launching his start up. Today, with a manufacturing capacity of 10 tons per year, he caters to custom- made graphene solutions for leading researchers and industries of India. The start up is also considering diversification into application development through in-house R&D and in collaboration with experts in different fields like smart textiles, water and air purification, composite, construction and energy storage.
Neel's start-up is in a growing stage now. He realises that challenges are going to be his biggest allies but as he puts it, " I can clearly see a difference between my approach and that of my counterparts and competitors. Hurdles do not bog me down; I have the strategies to face them headlong. That is what I have gained at EDII."
Talking about his future plans, Neel says that he is only focussing on ( and will continue to do so for the coming few years) establishing the uniqueness of his product, undertaking intense research to improve his product and developing an acceptance for his company in the market."
The technocrat deserves all the applause and recognition. EDII is proud of you Neel. Let your innovative thinking continue achieving even mega successes.