More Power to Women... EDII and Bayer Foundation raise the baton
Slow pace of development in rural India has been a matter of concern for years now. The reasons for the abysmal conditions of agricultural wage earners, small farmers and non-agricultural laborers are many; primary ones being their small land holdings, poor education, almost negligible access to resources, lack of awareness, less achievement motivation among several more. Women, in particular, have been relegated to a back seat, in these regions. It is important to put up a system that ensures social and economic well being of women & the disadvantaged by undertaking micro enterprise development, thus offering systematic and sustainable solutions to poverty and unemployment.
Malegaon, a tehsil / block in Nashik district of Maharashtra occupies 12 per cent area of the district. The economy of Malegaon is driven by two major sectors – the power loom industry and manufacturing of PVC pipes. Agriculture follows as the other most important source of livelihood. In Malegaon, participation of women in the workforce, is a mere 6.6 per cent. Given their enthusiasm to participate in income generation activities, it is important to skill them appropriately so that they get into their desired activities. Such a change in their orientation will also improve their social and economic status.
Against this backdrop, EDII has joined hands with the Bayer Foundation to implement Project UNNATI in Malegaon district.
The Project is being implemented in three phases, comprising; Vision Building & Leadership Training (VBLT) for empowering 100 SHG Heads / Leaders; Micro Skillpreneurship Development Training (MSDP) to impart training in Entrepreneurship and a selected Skill to 600 women members belonging to SHGs and Entrepreneurship Development Programme (EDP) to train and handhold 50 independent women wishing to start their own business.
An important activity undertaken included Training of Trainers' Programme, which was organized for the Project Team of UNNATI during 31st January to 4th February, 2022. The participants were introduced to Entrepreneurial Competencies, Business Opportunity Identification, Market Survey and Research, Market and Project Feasibility, Resource Mapping, Baseline Survey and Analysis, Project Report Preparation, Book Keeping for small enterprises, SHG Norms, Risk Management, Analysis and Mitigation, Marketing, Branding, Pricing Strategy, Handholding and Support activities among other critical topics. The idea was to institute a cadre of trainers who could impart learning to help women come up as entrepreneurs. Simultaneously, EDII team has also initiated a baseline survey of SHGs and Vision Building and Leadership Training to set up a promising trajectory for achieving the mandates and goals.
The project will lead to an integrated and enabling ecosystem where inclusive growth becomes a norm. Building capabilities of women and ensuring micro enterprise creation will ensure balanced growth and development.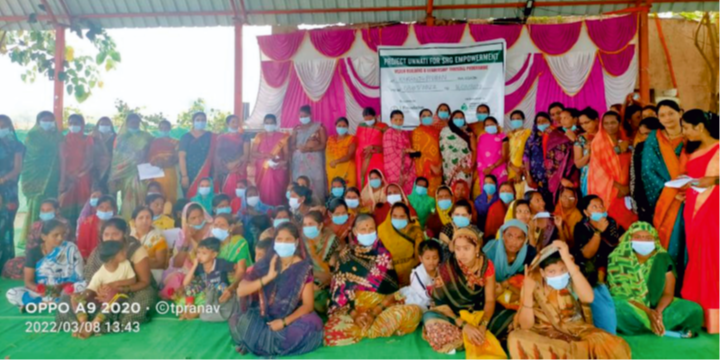 Participants of the Vision Building and Leadership Training for SHG Heads of Malegaon, Maharashtra
Project UNNATI was virtually inaugurated on 31st January 2022 in the presence of dignitaries including Ms. Sarita Bahl, Director, Bayer Foundation India; Dr. Amol Lohakare, DDM, NABARD and Dr. Raman Gujral, Director – Dept of Projects (Corporates) & Incharge – Southern Regional Office-EDII. The other EDII team members present were Mr. Shibin Mohamed and Mr.Sivan Ambattu. Bayer Foundation India Team comprised Ms. Sarita Bahl, Director Bayer Foundation India; Dr. Dhanalakshmi Ramachandra, CSRBP-Strategic Projects & Stakeholder Engagement; Ms.Uma Hariharan, Manager-CSR along with officials Mr. Naim Patel and Mr. Dipak Nigam. The Inaugural Ceremony was followed by the Training of Trainers' Programme on the same day.