Dedication…..Perseverance and Awards Galore …..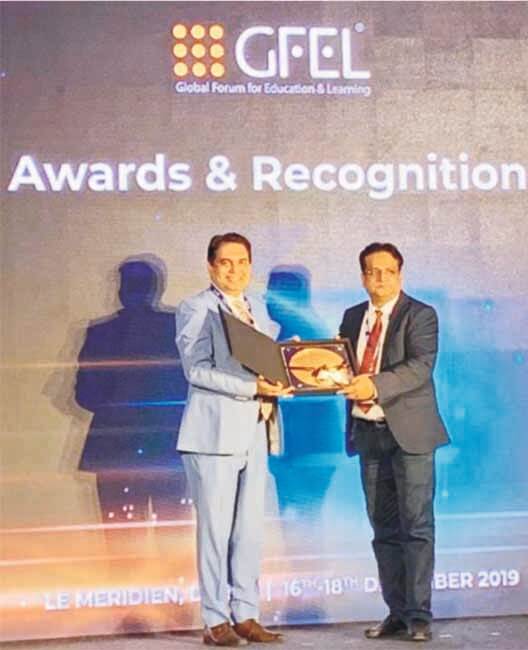 Krishan Mishra is a visionary who finds motivation in every opportunity that promises to make the world a better place. Today as one looks at his journey, his accomplishments speak of his hard work and countless awards stand as testimony to it. Proud recipient of the prestigious "Top 100 Leaders in Education" award for his notable contribution to the field of education, Krishan has come a long way. Krishan grew up with the learning that the best way to reach the top is by being the best man at the bottom.
Krishan nostalgically says, "Being an Army Officer's son, I loved the nomadic life, the uncertainty of the next posting, the excitement of packing and shifting to a guest room, shedding tears for friends and then unpacking and settling down at another station, making new friends, and going to a new school. I interacted with people from diverse cultures and ethnicities. My discipline about time, table etiquettes, and the way I dress up and interact with other people has all been shaped through the years." Krishan added.
He gives credit of his success to the values, ethics and discipline that were ingrained in him right from early childhood. "The construction of my values and disciplined behaviour had starting taking place during my school days. I fondly remember that I was in class eight, when one day, I found an expensive wrist watch lying on the floor in the library hall. I immediately reported to my school authority. They lauded my promptness and honoured me with Honesty Award. The owner of the wrist watch was no other than our school principal. It gave me immense happiness to see my parents who were filled with pride". Krishan recalls that this incident had sent a clear message to him that honesty is an enviable trait and no matter what he does in life, he will never compromise with honesty.
Krishan, after completing graduation in Business Administration from Indore, had started searching for meaningful options. It was then that he came across the Post Graduate Diploma in Business Entrepreneurship course of EDII. This generated interest in him, he did his research and applied for it. He joined the institute and he says he got an opportunity to explore entrepreneurship, spot his areas of interest and develop his business plans. Krishna learnt to not just think big but also target his aims with a strategic plan. Krishan acknowledges the vital role that EDII faculty played as mentors and guides even after he had completed the course.
Recollecting the pleasant memories at EDII, Krishan admiringly states, "The motivational, skill building programme offered at EDII proved to be helpful in teaching judicious analysis of opportunities. Risk behaviours, SWOT analysis, marketing principles, entrepreneurial profiles and case studies offered at EDII helped me in enhancing my leadership skills.
Today, Krishan has over 16 years of experience in business development and managing education business, channel partners and corporates. He heads Northern and Eastern India regions for Association of Chartered Certified Accountants and is responsible for ACCA's business development in the northern & eastern Indian markets. The ACCA is one of the world's leading professional accounting bodies, with around 219,000 members and 527,000 students in 179 countries. It works with over 7,291 approved Employers and 80 accountancy partnerships. Before this, Krishan had worked extensively as a National Coordinator for Allahabad Bank, UCO bank and had also managed Foreign and Rural Cooperative Banks.
To the new students and aspiring change makers Krishan's message is – "Any change has to first begin from within and no matter what situation one is in, it always helps to ask oneself, how will my action today make the world a better place tomorrow. "
The training at EDII continues to help Krishan to go back to books and studies. He is constantly adding to his skills. Krishan concludes, "A lesson I cherish and keep talking about is to plan your life's goal. A man who does not plan long ahead will find trouble at his door.
EDII takes pride in Krishan Mishra's achievements and wishes him success in all his endeavours.