Enhancing Skills for Better Lives…Accenture Project
Revitalizing and rehabilitating economies through entrepreneurship development has proved to be a tactical development strategy. Micro Entrepreneurship and Skill Development programmes have brought about pervasive changes on the landscape of rural India. EDII has been contributing significantly to enhancing the entrepreneurial and skill levels of rural populace. Alongside, improvement in technology, production standards, marketing and network building are stabilizing businesses in rural locales and leading to employment generation, asset creation and revenue generation. Programmes in Odisha, Bihar, Uttarakhand, Assam, Kerala, Tamil Nadu, Karnataka, Telangana, Andhra Pradesh are empowering the beneficiaries to wear the cap of entrepreneurs.
Activities over the last three months have led to noticeable incidences of livelihood creation and self-employment.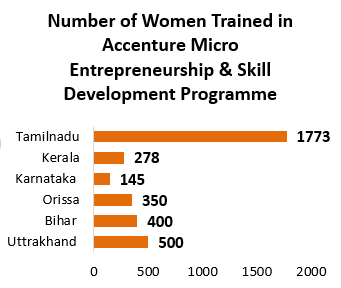 Odisha, 350 women beneficiaries have been trained in Jute bag screen printing, mushroom cultivation, organic fertilizers and Paper Mache. The trained women beneficiaries formed self –help groups for Udhyam registration and for creating credit linkages. 9 SHGs got approval for Rs. 60 lakh Credit linkage under Mukhya Mantri Krishi Udyam Yojana (MKUY).
In Tamil Nadu, 1773 women beneficiaries were in various skillpreneurship programs such as palm leaf products, millet products, jute products, medicinal plants nursery, honey processing & packaging, Dehydrating fruits & vegetables, laptop bag making etc. The beneficiaries were subsequently guided and supported by project coordinators to start their own enterprise. 254 individual and group enterprises completed Udhyam registration for starting their business, while other beneficiaries are in the process of completing the formalities.
In Coimbatore District, 76 women beneficiaries were supported to register for FSSAI license for starting their food processing enterprises. As a part of credit linkages, beneficiaries were linked to government credit schemes such as Prime Minister Employment Generation Programme (PMEGP), UYEGP, Tamil Nadu Rural Transformation Project (TNRTP), PM Formalization of Micro food processing Enterprises (PMFME) Scheme. One of group enterprises named Sabari Enterprises received Rs. 1,10,000 under TNSRLM Project in Kallaurichi District.
In Bihar, 400 women beneficiaries were trained in dry mushroom packaging, organic fertilizers making, cloth upcycling & jute products and laptop bag making. All the beneficiaries are under the process of Udhyam registration and bank credit linkages.
In Haldwani, Uttarakhand 500 women got training in jute bag making & Moonj grass products making. Dr. Arvind Pandey, Cabinet Minister, Uttarakhand, distributed 10 jute bag stitching machines for the training centre to support this vocation. The programmes were conducted at the project locations of Udhamsingh Nagar, Haldwani and Dehradun in Uttarakhand.
In Karnataka, 145 women were training in post harvesting processed, organic fertilizers & organic vegetables. Udhyam Registration & credit linkages of all beneficiaries are in process. Participants have got funding from BG pura FPO.
Milestones…
Sisir Sarat Mohatsav Bhubaneswar
Sisir Saras, a national level rural fair was organized in Bhubaneswar by Odisha Rural Development and Marketing Society (ORDMS) in January, with an aim to create market linkages for rural producers. 3 SHGs working in area of paper mache and jute bag making participated in the fair. The SHGs touched an impressive income of Rs. 1,23,800.
Saras Ajeevika Mela, Noida
Two SHGs – Sutar Papermache and Maa Tarani from Accenture MSDP Orissa were selected by NIRDPR, ORMAS to set up their stalls in the domain of Odisha's Craft in Saras Ajeevika Mela organized by the Ministry of Rural Development. More than 300 craftswomen representing 25 states of India presented their handicrafts and artifacts.
Gandhi Shilp Bazaar, Bengaluru
Gandhi Shilp Bazaar – Exhibition-Cum-Sale was organized in Bengaluru from 27th Feb to 8th March, 2022 to promote the sale of handicrafts, handlooms products produced in different parts of the country. Accenture MSDP beneficiaries from Tamil Nadu participated to showcase a wide range of products i.e., haats hand bags, lunch bags, purses, mats, pouches, table mats, cell phone pouches, doormats, baskets, pencil boxes, carpets and several other products designed and manufactured by them. A profit of Rs. 10,000 was recorded.
WeAct Kiosk
Women Entrepreneurs Access Connect Transform (WeAct), EDII organized a state level Self Help Group (SHG) Products Exhibition cum Sale in Pondicherry on 13th March, 2022.
About 50 women from Tamil Nadu & 7 from Puducherry displayed their products, including products made from jute, banana fibre, palm leaf, in addition to millet products, different varieties of masala, toiletries, cloth bags made from denim fabric, moringa products.
WeAct also organized an exhibition in Bengaluru for participants of postharvesting processes.
Success Story
…Because they decided to give wings to their dreams
Thilaga , a 12th pass sombre looking woman was happy getting married and subsequently looking after her home and kids. But deep down she had 'buried' dream of doing something someday. She was unable to figure out anything and kept herself busy in household chores, till she met her neighbour, Mrs. Rajeesha. Mrs. Rajeesha also harboured entrepreneurial dreams. They both talked, made friends and ensured a place for themselves in Accenture's Micro Skillpreneruship Development Programme (MSDP045) on making Millet Products. The programme was conducted for 26 days at Karumathampatti. They received training in making ready–to–eat healthy items comprising masalas, confectionary, chocolate and cookies mixes. The programme also trained them in the areas of packaging, labeling and marketing strategies. After successfully completing training together, they floated their unit in this sector, under the brand name of SUPER Foods.
Under mentoring and support of EDII, they registered their brand under FSSAI. Also, they registered UDYAM under MSME Sector. They have begun with focus on nearby markets and shops. They sold their Masala powders to nearby shops and depended heavily on customer feedback to improve their products. Hearteningly, today their markets include nearby districts as well. Today they have a diverse product range including nutri-malt, millet balls, instant mixes Sambar Masala, chana masala, biryani masala, coriander powder, rasam powder, ready-to-cook multigrain dosa Mix, ready-to-cook multigrain pancake mix, ready-to-cook multigrain Adai mix, idli powder and red chili powder.
The entrepreneurs say in unison, "Life couldn't have been better. We are enjoying our entrepreneurial journey. EDII and Accenture came like a mystical powers in our lives. We can never thank them enough."