EDII alumni emerge as Winners in Smart India Hackathon 2022
Every year, in association with AICTE, MoE's Innovation Cell organises Smart India Hackathon. It is a nationwide initiative to provide students with a platform to solve some of the pressing problems we face in our daily lives, and thus inculcate a culture of product innovation and a mindset of problem-solving. Smart India Hackathon 2022 is the fifth edition. 2 students from EDII won in Grand Finale of Smart India Hackathon at 2 places, i.e. Bhopal and Chhattisgarh.
In Chhattisgarh, Eva Garg bagged the 2nd runners-up position for her Startup, Boxarc that provides new age & innovative solutions to traditional construction by creating sustainable & modular spaces.
In Bhopal, Sumit Prakash bagged the 2nd runners-up position with startup idea of Sustainable & Modular Container Spaces.
The winners received Rs. 50,000/- each as a reward.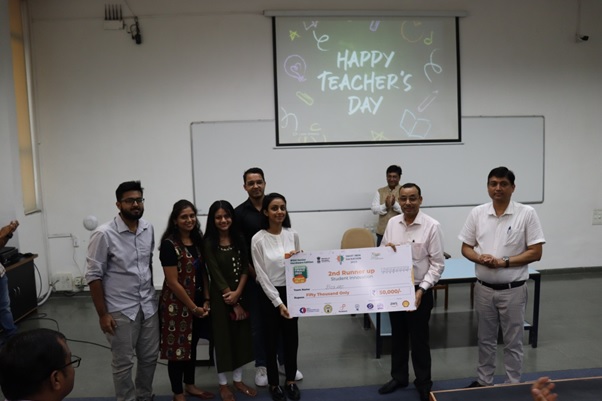 Dr. Sunil Shukla, Director General, EDII felicitating the winners on EDIII Campus on the occasion of Teacher's Day.